SRJC DREAM CENTER EXPANDS TO OFFER FREE LEGAL ADVICE TO UNDOCUMENTED STUDENTS
February 13, 2019, Santa Rosa, CA—The Santa Rosa Junior College (SRJC) Dream Center, on the Santa Rosa campus, has expanded and in February will begin an ongoing partnership with Vital Immigrant Defense Advocacy and Services (VIDAS), an organization that provides free legal advice and services to undocumented students. This partnership will likely emerge as a cornerstone in best practices for Community College Dream Centers, and SRJC is proud to be a leader throughout the country in this regard.
The center will hold a grand re-opening on Thursday, Feb. 21, 2:00-4: 00 pm in its new location on the Santa Rosa campus, Plover Hall, room 539.
The new location will continue to provide a safe, welcoming environment for undocumented students to be supported through the unique challenges they face in higher education. Specialized programming will also be organized for undocumented students, such as the annual Undocumented Student Week of Action and other activities in collaboration with colleagues throughout the district.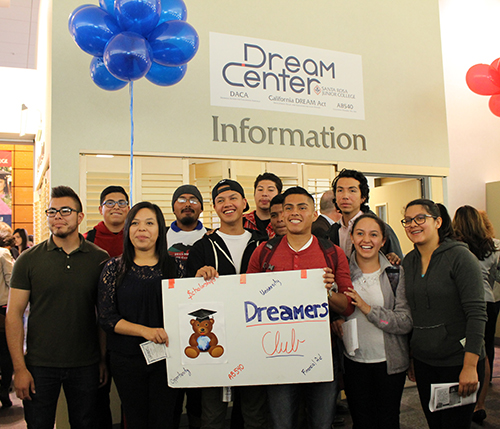 The SRJC Dream Center supports SRJC's mission of diversity by providing:
Equal access for all students
Multi-ethnic global perspectives and cultural competencies
Employees who reflect the communities we serve
Honesty and integrity in an environment of collegiality and mutual respect
Vital Immigrant Defense Advocacy and Services (VIDAS)
VIDAS, a nonprofit immigration law office, was founded in 2014 by Legal Director, Richard Coshnear.  The mission of VIDAS is to offer free or low cost, quality legal services to undocumented immigrants in Sonoma County. VIDAS was recently recognized and accredited by the Office of Legal Access programs and selected as the lead partner in the Sonoma County Secure Families Collaborative.
Over the years, VIDAS has built a strong relationship of trust with the undocumented students at the Santa Rosa Junior College.  VIDAS is excited to join the Santa Rosa Junior College in this unique and vital partnership. VIDAS will house Maureen McSorley, an immigration attorney with over 20 years of experience and Barbara Ibarra, paralegal, at the Santa Rosa Junior College Dream Center. McSorley and Ibarra will be available to assist the undocumented students with their legal service needs.
For information about the Dream Center and services provided, please contact:
Alma J. Valverde C., Coordinator
avalverdecampos@santarosa.edu
707.527.4364
dream.santarosa.edu